Clay Travis & Buck Sexton Are Finding Their Rhythm and Enjoying Success
"Nobody can fill Rush's shoes, but Clay took one shoe, and I took the other."
Rush Limbaugh was diagnosed with advanced lung cancer in February 2020, but it wasn't until the broadcasting giant died a year later that Premiere Networks had to finally act on the immeasurable void in the industry and, specifically, its midday slot.
Rush's program continued on with "Best of" shows, but behind-the-scenes plans were taking hold for Limbaugh's successor.
In May, Premiere announced Clay Travis and Buck Sexton would join forces to co-host the 12p-3p ET slot. Their program debuted on Monday June 21st.
"Nobody can fill Rush's shoes," Sexton told BNM. "But Clay took one shoe, and I took the other."
"You're stepping into the role of a legend," added Travis during a separate interview with BNM. "Simultaneously, you can't be held hostage by the past."
Sexton was already entrenched in conservative media, filling in for Limbaugh many times during the last decade. Travis, though, was hosting morning drive on Fox Sports Radio, and growing his presence with OutKick, and FS1.
"It hasn't been that hard for me because so much of sports became political," Travis said. "There was a decent amount of political analysis over the past several years. The storylines [and] the issues have not changed."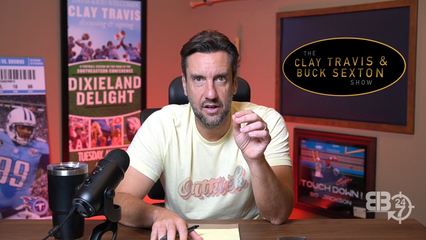 Having a built-in audience helped, but Clay and Buck exceeded their own expectations, tops in several markets including Houston, Phoenix, San Diego, Salt Lake City, Memphis and Sacramento (Limbaugh's former flagship KFBK).
"To be number one is pretty wild," Travis admitted. "We set a new podcast record [and] one of the two or three biggest in all of iHeart."
Although the hosts are bringing new blood to the show–Travis is 42, Sexton is 39–they have a strong work ethic and fresh approach to keeping the three-hour block entertaining and informative for listeners.
"I think it speaks to how important the issues that [Limbaugh] talked about were and how committed the audience is to Rush's world view," Travis said.
"In some level the pressure's off, at least in our minds, because Rush was so widely renowned, not just the most talented in the format, but someone who really built the format in many ways," Sexton added.
Despite being a Limbaugh relief host on numerous occasions, Sexton acknowledged he never met or spoke to Rush. The Limbaugh influence on Sexton came as millions of others listened to the radio titan.
No Training Wheels
While "Clay and Buck" may have their own take on the issues important to the majority of the audience, the Limbaugh lineage is present with his former staff staying behind to forge a future with Travis and Sexton.
"It's an incredible honor to his legacy," shared Travis.
It was Julie Talbott, president of Premiere Networks, who had the foresight to team Sexton and Travis on the 400+ stations.
"We had our own solo shows, so there were probably thousands of hours of us out there. Julie managed us and was both of our bosses," Travis said. "There were no training wheels here."
"Clay is a great talent, a true professional [and] a super smart guy," Sexton said of his co-host. "We're both sort of put in this position…We're both going to make it happen."
Both hosts are proud of the show's performance over the opening six months.
"I think we're doing one of the best radio shows that exists anywhere in the country," Travis said.
While it was direct ascent to the coveted show for Sexton, Travis had to switch formats to make it work. However, regardless of the format or topic, once you are consciously aware of what you are trying to be, "I think that filters into your own authenticity," said Travis.
The OutKick founder places Limbaugh and Howard Stern as the greatest of the generation, who "consistently educate and entertain their audience in a way that's better than almost anybody out there.
While Sexton and Travis may have come from different avenues, each enjoying success as solo performers, it's their connection as a team that's made the difference.
"It certainly takes a bit of a change of pace," said Sexton. "You have to get used to the rhythms of having a co-host."
Since Sexton and Travis have found their best way to format the lunchtime show, listeners will be without the dramatics. There's no fist-pounding or screaming for controversies.
"We're both providing different insights, but also a more conversational and relaxed feel," shared Sexton. "We really want everyone listening to the show to feel like they're the third person sitting at the table."
The tandem also has other projects keeping them busy. Travis remains heavily involved with OutKick, the brand he founded, which produces a mixture of sports, news, gambling, and pop culture content. Sexton meanwhile remains connected to television, hosting a daily one-hour show on The First, a conservative digital network.
"It's good to keep those TV skills sharp and have that opportunity to reach additional audiences beyond the radio show," Sexton said.
The duo has not shied away from topics that hit nerves and resonate with most, especially the pandemic and mask mandates. Sexton, a former CIA analyst who spent time as a consultant for CNN, was quick to criticize his former employer and its recent decision to fire Chris Cuomo.
"I do not believe CNN is running a journalistic enterprise. I think CNN is running a propaganda enterprise under the guise of journalism. That means that their ethics, such as they are, are highly dependent on situations that benefit them," explained Sexton. "So they're very ethically flexible, I think we could say. The fact that CNN didn't take action against Cuomo earlier on isn't surprising to me at all. Eventually, it just became too embarrassing for them."
Some have suggested, given the sexual harassment allegations that, in part, led to Cuomo's demise, the cable outlet should hire a woman for that prime-time hour.
"It's not that they need a woman in that time slot; their problem is: What is CNN?" Sexton contends. "Is this an objective news network? Jake Tapper presents himself as an objective journalist. To anyone who knows his work and certainly how he also operates behind the scenes—that's fraudulent. That's just dishonest."
Great Relationship
To make the most effective radio, the hosts drill down on the issues together to find the most pressing area for focus. Sexton's CIA background has provided great training for navigating the broadcasting business.
"Taking in a tremendous amount of information and figuring out what makes sense, what makes a difference, what matters, that in many ways is the quintessential prep skill for a radio host" said Sexton.
Travis on the other hand started practicing law, after graduating from Vanderbilt University. He then ventured into writing, and local radio before arriving on the national circuit.
Though they go out of their way to bring facts to the forefront and see many things in a similar light, Clay and Buck do share a few differences.
"We don't agree on everything," Sexton cautioned. "Clay is a converted Conservative. I'm a Conservative since I was probably 15 years old."
Whether they agree on taking calls or not is a different issue. The show hasn't done a lot of it, although they are in constant communication with the audience thru social media and make it a point to share messages on the show.
"We want Liberals to listen. We want Democrats to listen, people that disagree with us strongly, we'd rather they hear our version of why Conservatism is correct on a certain issue or why maybe we're a little ambivalent or some things than what they might get elsewhere," Sexton said.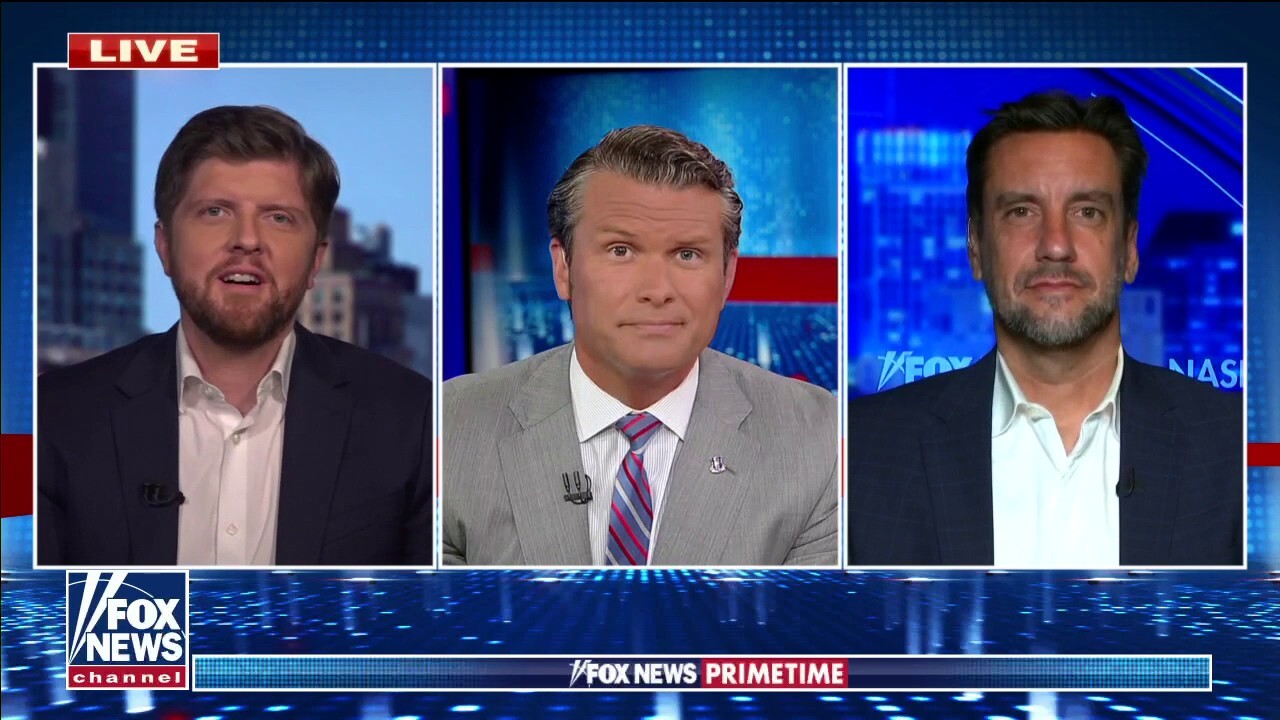 The show itself is put together remotely. Sexton is based in Manhattan, Travis is in Nashville. Though that could create challenges for some, both say it hasn't interfered with the on-air product.
"The technology is such that I don't think anybody out there listening can even tell," Travis added, although they are upfront with the audience about it. "Frankly, it's basically the same, to me, seamlessness, whether we're in the same studio [or not]. It doesn't really seem to impact the flow of the show."
"I think it actually adds to the show and creates a really interesting dynamic," Sexton said. "I can see Clay in real time very clearly. We're staring at each other's faces on pretty large screens."
Wherever they crack the mic, the duo in short order has built a good working relationship.
"I don't know exactly what the phrase would be, but we talk for three hours every day, and the vast majority of it is public," said Travis. "We're constantly texting and sharing stories, interacting, basically all day, so, we have a great relationship."
Sexton echoed a similar sentiment, pointing out that the two hosts share a strong work ethic.
"I will do the absolute maximum workload that I can to create the most successful shows and put out the best content I can," Sexton said. "Clay Travis is an absolute machine as well. I've found that [he's] one of the only people in the entire media industry that I've come across who puts in the hours, the effort and energy that I do."
Jerry Barmash has been a fixture in New York radio for decades with anchor stints on WABC Radio and Bloomberg News. Jerry was also heard on WINS, WCBS and Wall Street Journal Radio. As a media writer, Jerry's pieces were featured in Broadcasting & Cable, NY Daily News and Watercooler HQ. Jerry also hosts the interview podcast Here Now the News. He's on Twitter @JerryBarmash and can be reached at jerrybarmash1@gmail.com.
Telling The Audience What You Think They Want to Hear Won't Help You Grow
"Calling out each candidate's positives and negatives isn't picking one over the other, it's opining on the news of the day."
It's OK to not always tell your audience what you think they want to hear.
I have been writing that phrase down at the top of my notepad before I start my show for the last two weeks. Something tells me I will need it for at least another 12 months.
In the last week alone there have been two major topics that have divided News Talk audiences across the country: The debt-ceiling debate and the brewing Donald Trump vs. Ron DeSantis feud.
And as I've listened to talented hosts and perused the social media landscape, I've noticed a hesitancy that I usually would not expect.
Granted, for the last two years it's been relatively easy when talking about the national political scene: Joe Biden is a disaster. Whether it's economic policy, border policy or foreign policy, most Americans don't believe the guy is doing a good job. The News Talk audience, generally speaking, thinks he's doing a terrible job.
That's shooting fish in a barrel. But now comes the hard(er) work.
Starting with the debt-ceiling drama, there was a big divide amongst Republicans in the House of Representatives. The bill passed with broad bipartisan support, however dozens of Republicans, many of the most conservative members of the House, voted against the bill, saying it did not do enough to cut spending
As a result, it seemed many hosts, who assume their audience blindly aligns with everything the most-conservative members of the House say, were hesitant to point out the obvious: Explain what better deal you were getting when you only had a small majority in the House, and no control over the Senate or the White House?
It was a question I never got a good answer to on my show.
Republicans already picked up a win getting Biden to the negotiating table after he spent months saying he wanted a clean debt-ceiling raise with no spending cuts attached. Speaker Kevin McCarthy won, got some concessions, and slowly began turning the tide towards hopefully Senate and White House victories in 2024, when then the real work can begin on getting spending under control. This was a victory.
And while no one with any levels of fiscal sanity believes our government's spending isn't wildly out of control, that is a separate conversation from whether or not this was a good or smart deal.
Then, there's the Trump vs. DeSantis feud. Some have staked their claim with one candidate over the other. Some are trying to toe the line and avoid all conflict. Neither approach makes sense to me.
The obvious approach seems to me to analyze the candidate's based on what they do and say on a given day. There will be good and bad days for Trump. DeSantis will have his up and down moments. I can guarantee this because they're flawed human beings like the rest of us.Like every election season, it will ebb and flow, and eventually someone will come out on top.
Calling out each candidate's positives and negatives isn't picking one over the other, it's opining on the news of the day.
If you compare this to sports talk radio, a national host talking about the NFL Playoffs doesn't have to have a preferred team, but he or she has to have something to say that's interesting, compelling, honest, thought-provoking and entertaining.
If they don't do this, they'll become wallpaper in a world of too many media options.
If you have the trust of your audience, you're real, honest, engaging and thoughtful, you won't lose your audience. You'll keep them engaged and you'll grow it.
Pete Mundo is the morning show host and program director for KCMO in Kansas City. Previously, he was a fill-in host nationally on FOX News Radio and CBS Sports Radio, while anchoring for WFAN, WCBS News Radio 880, and Bloomberg Radio. Pete was also the sports and news director for Omni Media Group at K-1O1/Z-92 in Woodward, Oklahoma. He's also the owner of the Big 12-focused digital media outlet Heartland College Sports. To interact, find him on Twitter @PeteMundo.
Why Did Newsmax Allow Rep. Matt Gaetz to Host An Unchallenged TV Program?
"A sitting politician hosting a show also doesn't allow for a variety of opinion. It gives them the ability to deceive their audience, delude their constituents and impact lives in the name of lies."
Representing your constituents in Congress used to be a mark of honor. It was a position that came with pride and respect. At least that's what I've heard from older relatives who lived in an America that was supposedly more united. Today, depending on the individual, the position doesn't usually come with too much regard if any at all. Congress has an all-time low approval rating and many representatives go into the job plotting their next money-making move in the process.
The cable news circuit has slowly but surely built a bench of potential hosts from current and former Congressmen. Former Congressman Jason Chaffetz is a Fox News commentator, Trey Gowdy is a host on Fox News, Joe Scarborough is MSNBC's morning show anchor and most recently Rep. Matt Gaetz anchored his own hour for Newsmax. As much as some members of Congress roast young Gen Zers for their tenacity when it comes to TikTok, these men are just as eager for the wrong kind of attention and spotlight.
A former Congressman on television can provide perspective that gives context to current issues the country faces. On Scarborough's morning show, he often harkens back to past negotiations and talks he had with fellow lawmakers. At times, he even uses those connections to find out the inside scoop about something that's happening in the moment. Current Congressmen who appear on shows as guests also get to talk directly to their constituents hopefully alongside a host that is willing to challenge them on the issues of the day and not simply allow them to lead the audience astray.
For Newsmax to allow Rep. Gaetz to host a show though, is a disgrace to a medium of television that already like Congress doesn't have much acclaim. With that being said, even for cable news, this is a major low and it should never happen on either side of the aisle. Politicians are elected to serve but are also forced to make tough decisions. These choices are answerable to the American people. When a Congressman is allowed to spew their thoughts uncensored, it takes attention away from the issues that really matter.
A sitting politician hosting a show also doesn't allow for a variety of opinion. It gives them the ability to deceive their audience, delude their constituents and impact lives in the name of lies. Unless Gaetz had a co-host that was a journalist questioning his takes, how does an unchallenged show truly serve the public – an oath he agreed to partake in when he took on his role as a Congressman.
Gaetz's appearance is also a waste of tax dollars. The people of Florida who elected him into office expect Gaetz to be working with fellow lawmakers to make their lives better. They expect him to be doing research or reading up on bills that can bring the change he's promised to his voters. Instead, he used the resources of hard-working Floridians to moonlight into his next career and spew misinformation that can prove harmful to the public.
If we allow more serving Congressmen to host their own cable talk shows on such a widely distributed platform, will we reach a day when lawmakers exclusively negotiate bills on television? Will Congressmen be more worried about ratings than results? We've already seen what happens when a President reigns over a populous and only rules based on what he sees on television. We've also seen the political implications that come with such unjustly behavior. Cable news networks will suffer the moral consequences of their actions while politicians who dare to try this act again will eventually face the demise of their legacy in the voting booth. Be careful.
Jessie Karangu is a weekly columnist for BNM, and graduate of the University of Maryland with a bachelor's degree in journalism. He was born and raised in Baltimore, Maryland but comes from Kenyan roots. Jessie has had a passion for news and sports media and the world of television since he was a child. His career has included stints with USA Today, Tegna, Sinclair Broadcast Group and Sightline Media. He also previously wrote a weekly column for our sports media brand, Barrett Sports Media. Jessie can be found on Twitter @JMKTVShow.
Sales Productivity Protects You From Hedge Fund Uncertainty
"The good news is that most radio station clusters are still very profitable. The bad news, the debt makes many clusters unprofitable."
Almost 30 years ago, Radio station ownership limits were lifted, and Wall Street saw an opportunity. But the hedge funds didn't understand the business and created mayhem in a still vital industry.
I worked in New York City for over 6 years. I had the opportunity to spend time around the brain trust of Wall Street. These Masters of the Universe saw the weakness of the radio industry and thought that they had all the answers.
Well, they didn't.
I will give you some history from my perspective. My first 16 years were spent working for family run operations. Both of these companies were managed by third generation operators who put people and community first. These were highly successful operations with large staffs.
I am not looking back with rose colored glasses. No organization is perfect or without unique challenges. But people were first in these broadcast companies. Both of my first employers had top consultants to give strong outside the organization feedback. Both companies had General Managers that catered to both the programming and sales departments.
The Telecommunications Act of 1996 was the biggest overhaul of telecommunications law in 62 years. It was widely thought that this would bring radio into modern times. Consolidation has been a landmark of American Business, so, Wall Street's Hedge Funds saw an opening.  Radio station owners sold for insane profits. Longtime owners were able to sell stations for multiples of up to 30 times meaning that if an owner had a station earning 1 million dollars, they could sell it for 30 million dollars. Quite a return (Most stations didn't go that high but multiples of 18-25 were very common during this period).  
Wall Street looked at radio like the pickle industry. Except there was an issue. Radio did not have hundreds of workers in each location. You couldn't move all operations to a central hub and save HUGE money, that would justify strong ROI. So, radio ended up with several large owners (by the way, I am not criticizing iHeart, Audacy, Cumulus and the other large owners). 
When larger companies developed, they went public selling stock to individual shareholders and institutional investors. The market states that companies show a certain amount of revenue growth per year. Let's say that number is 10%. Radio is interesting, we are regulated by the Federal Communications Commission. You cannot just build new radio stations. So, companies were forced to merge or expand to meet revenue goals. Wall Street encouraged and even demanded it.
Here was the problem – radio companies acquired an unsupportable amount of debt that could never be paid back. The Hedge Funds just moved cash around and demanded companies cut staff and consolidate management. It was a blood bath. Any of us who entered this business in the 90's saw this. Great broadcasters, salespeople, managers were forced out because of unsustainable debt and micromanaging Hedge Funds.
On the local level, new clusters were forced to protect the biggest biller in the group. This was not set to grow revenue; it was to protect the revenue and keep the spreadsheets looking right. I know of stations that were more successful brands in ratings in a cluster than the cash cow but if you were the Program Director who was consistently beating the cash cow, your job was in jeopardy. This was a reverse hunger games caused by debt, fear and shortsightedness.
So, here we are.
The good news is that most radio station clusters are still very profitable.
The bad news, the debt makes many clusters unprofitable.
Even though a couple of the bigger companies have gone bankrupt, they're not bankruptcy situations where assets were liquidated creating a market-based value of these properties. It was essentially a negotiation to lower the debt, and did not move these companies to become cash positive operations again. 
Why do the Hedge Funds not cut their losses and move on? Now that is a great question. Hedge funds handle billions of dollars. They bundle bad deals with great deals and so their investors don't seem to have a problem if they see enough of a profit at the end of the month, quarter or year. People remember the subprime mortgage crisis of 2008. Hedge Funds were bundling bad mortgages with good ones. Soon the bad overcame the market. Thus, a crash. The homes never went away. The value of real estate fell dramatically in many places.
Are people still listening to us? 80% of Americans do. Not the 93% of a decade or so ago (Pew Research). This is much better than local TV where only 63% of Americans watch local TV News.
But what is the future?
It is entirely up to Hedge Fund involvement. Will Hedge Funds cut their losses and move on? If that occurs, will local broadcasters rise again?
What can YOU do?
It is all about the billing. If you are billing a lot more than you cost, the company will need you, and indispensability is what corporate leaders will see. Make yourself available for Sales. If you are the morning talent, be dressed well enough for a sales call. Make yourself available a few times each week to meet clients. Let salespeople know about the products and services that you use. Radio personalities are influencers. They have huge audiences that listen every day. Don't forget your advantage. We cannot control the Hedge Funds, corporate debt or a fast-changing marketplace.
This was not an exhaustive history, but it illustrates our challenges. Radio programming departments are filled with creative people who just want to entertain. Be aware of our weaknesses and strengths. The Market Manager and sales manager are under huge pressure. Be that person who understands their concerns.
Peter Wilkinson Thiele is a weekly columnist for Barrett News Media. He currently serves as the program director, and morning host of Newstalk KZRG in Joplin, MO. Additionally, Peter has held programming roles in New York City, San Francisco, Little Rock, Greenville and Hunstville. He has also worked as a host, account executive and producer in Minneapolis, and San Antonio. You can reach him on Twitter at @PeterThiele.